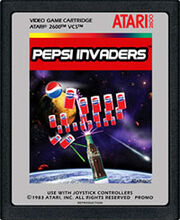 This was a revision of Space Invaders, specially designed and built for the executive level of the Coca-Cola corporation, so there are believed to have only ever been 130 of these games, at most. Instead of waves of aliens being fended off, the player must shoot invading letters that say PEPSI, as well as a flying Pepsi logo that replaced the flying saucer at the top of the screen. The game also includes a three-minute timer, so the player can't dally about.A recent copy on eBay and only sold for $815, although, there wasn't a lot of varifcation that is was the real deal. Other verified sales on eBay include a 2005 sale for $1,825 and a 2010 sale for $2,125.
Ad blocker interference detected!
Wikia is a free-to-use site that makes money from advertising. We have a modified experience for viewers using ad blockers

Wikia is not accessible if you've made further modifications. Remove the custom ad blocker rule(s) and the page will load as expected.