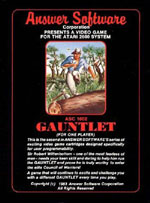 This title has nothing to do with the later action RPG series Atari would release. Instead, the plot follows Sir Robert Whittenbottom as he runs the gauntlet of an ancient tribe in an attempt to prove his manhood and join the tribe. The player could run around or leap over various obstacles, and could survive multiple hits before finally succumbing to wounds. The game was mail-order only from Answer Software and was not contained in a box, instead coming in a foam case.We haven't really seen much activity on this release in recent years. Copies back in the early 2000s went for about $3,000. I think it would be safe to say that it could reach $5,000 or more if went up for sale in good condition.
Ad blocker interference detected!
Wikia is a free-to-use site that makes money from advertising. We have a modified experience for viewers using ad blockers

Wikia is not accessible if you've made further modifications. Remove the custom ad blocker rule(s) and the page will load as expected.