"Eli's Ladder" is the rarest educational video game in existence.
Loose: 1500$
CIB: None
New: None
Players answer simple math questions to move Eli up the ladder and into his spaceship, all so he can fly to the moon. The game even includes a wall chart and motivational stickers, according to RacketBoy.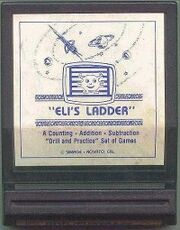 Ad blocker interference detected!
Wikia is a free-to-use site that makes money from advertising. We have a modified experience for viewers using ad blockers

Wikia is not accessible if you've made further modifications. Remove the custom ad blocker rule(s) and the page will load as expected.